<!- sidebar-file='/sites/www.hbschools.org/web/hbs/Elementary School/_zumu_sidebar.html' -->
Dr. Gregory Hobaugh
Superintendent
Elementary School Principal
Mrs. Christi Roling, School Secretary
Quick Links
<!- box:side2 -->
Preschool Forms 2017-2018
Kindergarten Registration
Classrooms
Contact Form
Dog House
Guidance
Health Office
Principal Page
Supply Lists
<!- box:side1 -->
HIB Information
2015-2016 HBSD HIB Grade Report (pdf)
HIB Reporting Form (pdf)
HIB Contact Information (pdf)
HIB Policy (pdf)
Guidance for Schools (pdf)
Topper Tribune - October 13, 2017
You will find this and more on our website in our calendar and our Virtual Backpack. Ms. Shiffman has now posted a new program information sheet in the Virtual Backpack called Quaver's Music. Please check it out.
Monday: Kindergarten to Pumpkin Patch (rain date 10/23), Girls on the Run

Tuesday:

Wednesday: Early Dismissal - Parent/Teacher conferences

Thursday: Early Dismissal - Parent/Teacher conferences

Friday: Elementary School Community Day
Please check our Virtual Backpack for information on this years' Pumpkin Literacy Contest sponsored by the PTO and our flyer regarding the Elementary School Halloween Celebration. We are aware of the lack of parking spaces at the Elementary School. Please consider walking to school for the Halloween Parade and/or sharing a ride with another parent. We are working on a plan to free up some staff parking spaces for that particular day.
Topper Tribune - October 6, 2017
Topper Tribune - September 29, 2017
---
Check out our Spirit Day participants! Each class had 100% participation. Next Friday will be another White & Blue day. Can't wait to see it!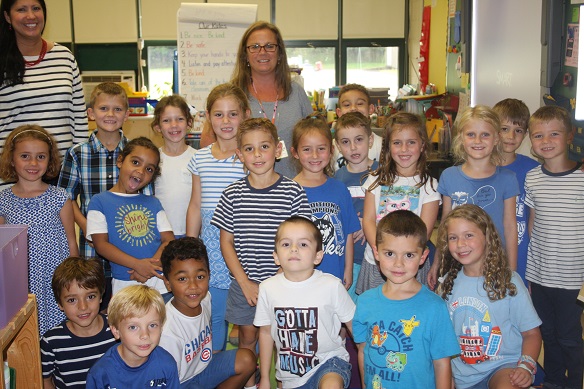 ---